Goodman DSZC18 18 SEER Heat Pump
The Goodman brand DSXC18 Air Conditioner uses the chlorine-free refrigerant R-410A and is part of our new ComfortNet family of communicating units. In addition, the DSXC18 features energy efficiencies and operating sound levels that are among the best in the heating and cooling industry. This unit contains the two-stage, high-efficiency Copeland scroll compressor, which provides improved temperature and humidity control for the consumer who desires superb comfort and quiet operation.
SEER: Up to 18.0
ComfortNet Communications System compatible
R-410A chlorine-free refrigerant
Two-Stage Copeland UltraTech scroll compressor
High-density foam compressor sound blanket
Copeland ComfortAlert diagnostics
Diagnostic indicator lights and storage of 6 fault codes
High and low-pressure switches
Coil and ambient temperature sensors
Factory-installed filter dryer
Liquid refrigerant return protection
Super-efficient condenser two speed fan motor
Copper tube/enhanced aluminum fin coil
Baked-on powder-paint finish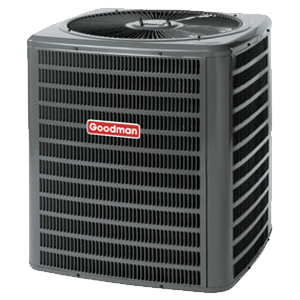 Model ID
Model Name
Clg. Cap.
MBH
Sound
dB
MCA
Max. Fuse
Size
R410A
Charge
Line
Size
HxWxD
Weight
29669
DSXC18-0361A
35.0
71
23.6
30
184
3/8 - 7/8
35.5x35.5x38.25
270
29670
DSXC18-0481A
47.0
72
29.2
40
259
3/8 - 7/8
35.5x35.5x38.25
320
29671
DSXC18-0601A
57.0
74
34.8
50
259
3/8 - 7/8
35.5x35.5x38.25
330
10 limited parts warranty
If the compressor ever fails, a new one will be provided to the original purchaser of the central air conditioning system as long as they live in the same single-family residence.
To receive the Lifetime Compressor Limited Warranty or 10-Year Parts Limited Warranty, online registration must be completed within 60 days of installation.