Goodman DSZC18 18 SEER Heat Pump
The Goodman brand DSZC18 Heat Pump uses the chlorine-free R-410A refrigerant and is part of our new ComfortNet family of communicating units. In addition, the DSZC18 contains the two-stage, high-efficiency Copeland scroll compressor, which provides improved temperature and humidity control. This unit is designed for the consumer who desires superb comfort and quiet operation.
Performance ratings:

SEER: Up to 18.0
HSPF: Up to 9.2

ComfortNet Communications System compatible
R-410A chlorine-free refrigerant
Two-Stage Copeland UltraTech scroll compressor
High-density foam compressor sound blanket
Copeland ComfortAlert diagnostics
Low-pressure switch
Factory-installed bi-flow filter dryer
Liquid refrigerant return protection
Super-efficient condenser two speed fan motor
Copper tube/enhanced aluminum fin coil
Baked-on powder-paint finish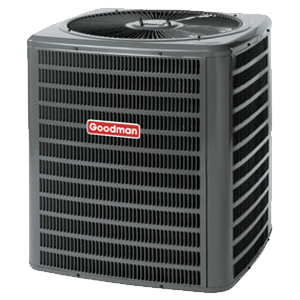 Model ID
Model Name
Clg. Cap.
MBH
Htg. Cap.
MBH
Sound
dB
MCA
Max. Fuse
Size
R410A
Charge
Line
Size
HxWxD
Weight
29658
DSZC18-0361A
47.0
47.0
73
29.3
50
278
3/8 - 1-1/8
28.25x35.5x35.5
330
29659
DSZC18 0481A
35.0
35.0
72
23.7
40
188
3/8 - 7/8
28.25x35.5x35.5
285
29660
DSZC18-0601A
57.0
57.0
75
34.8
60
278
3/8 - 1-1/8
28.25x35.5x35.5
350
10 limited parts warranty
If the compressor ever fails, a new one will be provided to the original purchaser of the central air conditioning system as long as they live in the same single-family residence.
To receive the Lifetime Compressor Limited Warranty or 10-Year Parts Limited Warranty, online registration must be completed within 60 days of installation.